Systematic distribution
Your products are in safe hands. With over 99,97% correctness.
Import, inventory management, receipt of orders and distribution. Distica offers comprehensive solutions in the field of import, inventory management and the distribution of pharmaceuticals and other healthcare products. Distica aims to deliver the right product, in the quantity specified, in the desired condition and on time.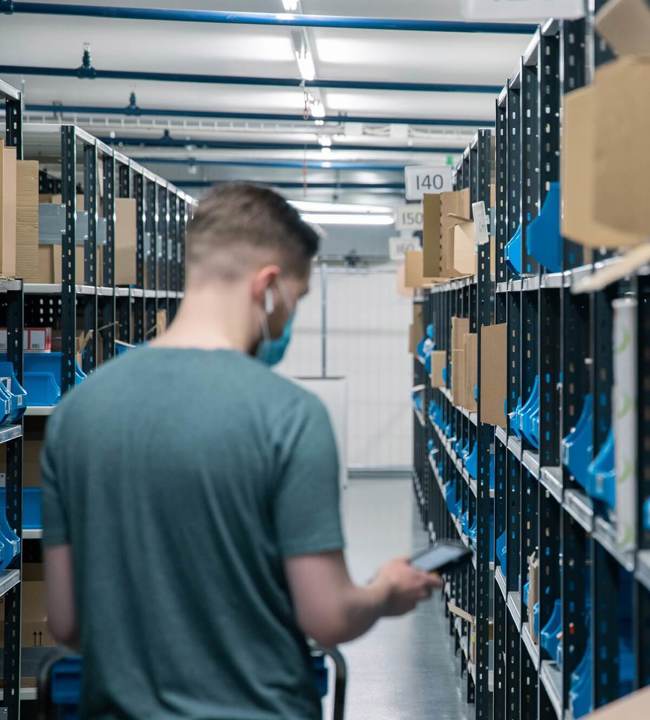 Specialized drug distribution
Distica specializes in the import and distribution of medicines and health products and is licensed by the Icelandic Medicines Agency. The company's quality system is certified according to the ISO 9001 quality standard, and it also meets the European Union's requirements for good pharmaceutical distribution (GDP). Distica has over six decades of experience in this field and has about 65% of all drug distribution in Iceland.
Health is for everything
In recent years there has been an awareness raising about health promotion and the importance of people adopting a lifestyle that enables them to live a healthy life in healthy conditions. Distica distributes a variety of health-related products for the consumer market and distributes to stores across the country.
Consumable goods and equipment
Distica also handles and distributes a variety of equipment and products intended for use at  laboratories, hospitals, dentists, veterinarians, and other health care and medical facilities. 
What our customers say

Distica has taken care of warehousing and distribution of Teva products to customers for many years and the collaboration has been very good. Teva has high demands on quality and Distica's extensive quality system meets all demands that have been put forward by the company, as well as ever increasing demands of the pharmaceutical industry in general. The conduct of Distica's employees can be characterized as smooth and positive and they make every endeavour to solve the challenges that arise, in a quick and effective way.

It is of great importance to ABEL ehf. to offer its customers the best possible service and ensure that the products that ABEL represents are treated in a responsible way, from the receipt of the goods from foreign suppliers to them being served to customers all over the country. ABEL has chosen Distica as a partner in warehousing, sales and distribution of the company's products for many years. It is clear that our good cooperation with Distica has been important to ABEL from the start and has supported our goals as regards service level, as well as results in growth and profitability.

As Marketing Manager of the pharmaceutical company Sanofi, I have been doing business with Distica from 2008 and have enjoyed their guidance in every step, from the purchase of the product to its distribution. Extensive knowledge, hard work and precision characterize the employees of Distica, that work closely and in good relations when challenges arise. Quality is crucial when handling pharmaceuticals, having to meet strict laws and regulations. Strict safety standards need to be fulfilled and the demands of exacting auditors of foreign marketing holders have to be met. Distica meets all of these obligations. I can, therefore, sincerely say that I recommend Distica as a distributor, without hesitation.