Warehouses
Distica operate three warehouses — in Hörgatún, Miðhraun and in Suðurhraun — where approximately 16,000 units are stored at any given time. 50 employees are divided between three separate divisions within each warehouse.
The warehouse in Hörgatún fulfills the requirements of the EU concerning Good Distribution Practices and the operations of both of the warehouses have been certified according to ISO 9001 standards. The warehouses are the cornerstones of the distribution of pharmaceutical and healthcare products in the Icelandic healthcare sector.
Distica's warehouses operate according to the environmental policy of its parent company, with the aim being to minimize the operations' carbon footprint by constantly reviewing work processes, e.g. as regards packaging, recycling and the classification of raw materials.
Distica uses the Manhattan Scale warehouse management system in all of its warehouse operations, along with the Microsoft NAV resource planning application.
Receipt of Orders
The warehouse reception in Hörgatún receives around 160 orders each month, most of which arrive from abroad via freight ships or cargo planes. Strict procedures are followed during the process of receiving orders, from the time that the order arrives at the warehouse to the time that it is ready for sale. Orders are examined for damages, temperature alterations during transportation and other aspects that need to be examined from the start. Upon their arrival, our employees ensure that medicinal products are authorized for the Icelandic market. Certificates of origin and salability must be produced in each respective phase of the examination. Each month our employees receive over 1,800 product lines, which must undergo the aforementioned review. If, for one reason or another, orders fail to meet the strictest standards they are disposed of immediately. Strict requirements are stipulated for the return of medicinal products and only a portion of returned products are accepted for resale, and then only if the aforementioned examination has taken place.
Distica's warehouse reception in Hörgatún has a staff of eight employees.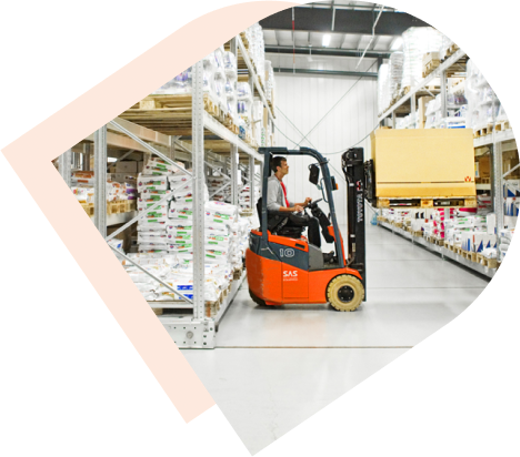 Quality control
Distica operates by permit from the Icelandic Medicines Agency, with a wholesale license (GDP) on the one hand, and a manufacturing license (GMP), on the other.
Distica's quality control system operates according to the EU's Good Distribution Practices and Good Manufacturing Practices. It is also certified according to the ISO 9001 standards. All of Distica's operations are certified, including import, packaging, inventory management and the wholesale distribution of medicinal products, healthcare products, consumer goods and goods for the healthcare sector and laboratories.
Distica operates a quality control system in order to fulfill the requirements of:
•  Legal provisions and regulations that apply to its operations
•  Provisions of quality assurance contracts
•  The requirements of GMP and GDP
This allows Distica to deliver the right product, in the quantity specified and in the desired condition to its customers.
Regular quality appraisals of Distica's operations are carried out by the Icelandic Medicines Agency and the authorized vendors of medical products that Distica services. These appraisals are important in order to gauge the company's performance, whereby relevant comments are useful in the improvement of procedures regarding import, inventory management and wholesale distribution, which serves to constantly improve Distica's performance.
Repackaging
During the process of repackaging, Icelandic patient information leaflets are inserted into packages that contain only foreign leaflets upon their arrival to Iceland. The repackaging process is classified as an act of "production" and must thus meet strict demands according to the EU's Good Manufacturing Practices regulation regarding the manufacturing and handling of drugs. Only a portion of those medicinal packages that arrive to the warehouse need to undergo the repackaging process. Each month, approximately 80,000 units are repackaged by Distica's employees. Distica employs 14 individuals in its repackaging division.
Warehousing
The Hörgatún warehouse
In Hörgatún, we store prescription medicine and over-the-counter medicines for the Icelandic healthcare sector. Our operations follow strict procedures and comply with standards applying to the handling and distribution of medicine as regards to environment, housing conditions, security, equipment, procedures and methods. The warehouse in Hörgatún is divided into three main working areas: the warehouse reception, packaging and cargo handling, in addition to a service related to research drugs. 40 employees execute a total of 37 full-time equivalent units.
Suðurhraun warehouse
Our warehouse in Suðurhraun stores healthcare and consumer products that are distributed to customers around the country, e.g. to hospitals, health institutions, pharmacies, veterinarians and supermarkets. Each month we receive approximately 300 orders and our staff handles between 3,000 to 4,000 product lines. In some instances, orders must be repackaged, or specially labeled: a service that is provided in the warehouse. The warehouse delivers 200 to 300 orders to customers every day and a total of 170,000 packages are delivered from the warehouse each month. Our employees also handle the exportation of goods to suppliers and the administration of goods on route for repairs, along with more traditional warehousing operations.
Our warehouse in Suðurhraun is approximately 2,000 square meters, capable of accommodating 1,300 palettes and 7,000 to 8,000 boxes. The building's temperature is monitored around the clock. Conditions are optimal for the storage and distribution of refrigerated or frozen cargo, with the possibility of storing toxic substances in a specially-made environmental chamber. The warehouse works closely with all of Iceland's leading carriers. Iceland Post's robust distribution network is interwoven into Distica's own distribution network.
Distica must ensure that products are stored under the right conditions in the warehouse. Distica's warehouses must comply with the following definitions: room temperature (15–25 °C), refrigerator (2–8 °C), freezer (-20 °C), and must also be capable of storing addictive, narcotic and research drugs.
Miðhraun warehouse
The Miðhraun warehouse is a health product animal feed product warehouse. Products at Miðhraun are stored at 15-25°C. The warehouse is ISO certified and upholds high environmental, safety, technology and work process standards. At Miðhraun there are three defined work areas where products are received, packaged and repackaged, and delivered to customers. Products are delivered to pharmacies, veterinarians, and retailers. The warehouse is 2.100 m2, has 1.600 pallets paces and 3.000 shelf spaces. At Miðhraun we receive over 80 shipments per month and deliver over 21.000 order lines to our customers.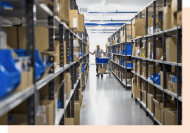 Cargo Stored at Room Temperaturea
When speaking of the warehousing of room-temperature cargo, we mean a product that is stored at a temperature between 15°C and 25°C in Distica's warehouses. Most of the products and product lines that Distica handles are stored under these conditions.
Refrigerated Goods
Refrigerated goods are stored at a temperature between 2–8 °C in Distica's warehouses. Refrigerated medicinal products are delivered in special packaging that ensures that a temperature of 2–8 °C is maintained for up to 24 hours during transportation. Great emphasis is placed on the operational safety of the refrigerating system within Distica's medicinal inventory. The system's most important components are thus doubled via a connection to a diesel backup generator. There is also an independent backup refrigerating system that operates independently of the main refrigerating system.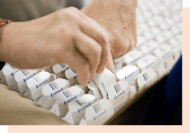 Temperature and Humidity Monitoring
The temperature of Distica's warehouses is regulated and monitored closely. The temperature control system is connected to Distica's security division, which monitors temperature-related deviations around the clock and mobilizes employees if the temperature deviates from specified norms (SOP-1258).
The humidity of Distica's warehouses is monitored. Humidity in Iceland is, generally speaking, relatively low, which means that it has not been necessary to regulate the humidity of warehouses (SOP-1261). Temperature and humidity sensors are normalized regularly.